TURBINE REPAIR
With more than 10 years of experience of SIS's experts in the field of maintenance and operation of power plants, SIS provides overhaul services for power plant steam turbines to ensure safe operation of the power plant. economic and continuous stability, including the following:
Disassembly of turbine details: the shells, turbine blades, compressor blades, combustion chamber details, bearing;
Checking and evaluating the status and life of the turbine;
Measuring, adjusting turbines, weighing turbine concentricity;
Welding processing and recovering details such as combustion chamber, stationary wing cover;
Clean the wings by sandblasting;
Analyzing, testing, evaluating and calibrating DCS, PLC control system hardware.
At the end of the major repair period, SIS has completed the test run, ensured the operating parameters according to the standards of the manufacturer and the thermal power company, met the schedule, soon put the units into operation. operating safety, continuity, stability while keeping absolute safety for people and equipment during maintenance. Thereby also affirms the capacity of SIS in technology for maintenance and repair of power plants.
In addition to providing full package turbine repair services, SIS also provides consulting services, assisting customers in checking and assessing the operating status of equipment, helping customers to plan and estimate Periodic overhaul at levels such as overhaul, overhaul and overhaul, offering solutions to help customers prolong equipment life and optimize maintenance costs.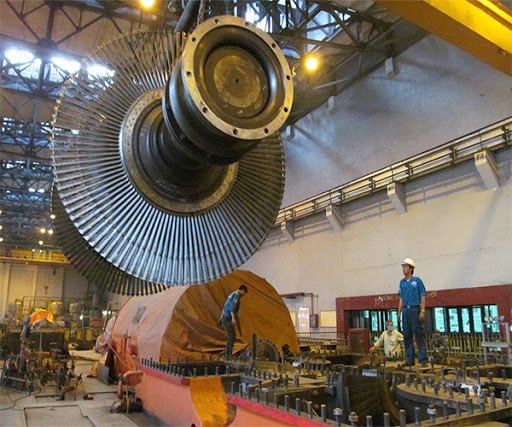 SỬA CHỮA TUA-BIN
Với hơn 10 năm kinh nghiệm của chuyên gia SIS trong lĩnh vực bảo dưỡng, vận hành các nhà máy điện, SIS thực hiện cung cấp dịch vụ sửa chữa lớn tuabin hơi nhà máy điện nhằm đảm bảo công tác vận hành nhà máy điện được an toàn, ổn định liên tục và kinh tế, bao gồm các nội dung sau:
Tháo lắp chi tiết turbine: các vỏ, cánh turbine, cánh máy nén, chi tiết buồng đốt, bearing;
Kiểm tra đánh giá tình trạng, tuổi thọ chi tiết turbine;
Đo đạc, cân chỉnh turbine, cân đồng tâm turbine;
Hàn gia công phục hồi chi tiết như buồng đốt, vỏ cánh tĩnh;
Vệ sinh cánh bằng phương pháp phun cát;
Phân tích, kiểm tra, đánh giá và hiệu chỉnh thiết bị phần cứng hệ thống điều khiển DCS, PLC.
Kết thúc kỳ sửa chữa lớn, SIS đã hoàn thành công tác chạy thử nghiệm, đảm bảo các thông số vận hành theo tiêu chuẩn của nhà chế tạo và công ty nhiệt điện, đáp ứng đúng tiến độ, sớm đưa các tổ máy vào vận hành an toàn, liên tục, ổn định đồng thời giữ an toàn tuyệt đối cho con người và thiết bị trong suốt quá trình bảo dưỡng. Qua đó cũng khẳng định năng lực của SIS trong công nghệ bảo dưỡng, sửa chữa nhà máy điện.
Ngoài cung cấp các dịch vụ sữa chữa lớn turbine trọn gói, SIS còn cung cấp các dịch vụ tư vấn, hỗ trợ khách hàng thực hiện kiểm tra, đánh giá tình trạng vận hành thiết bị, giúp khách hàng lập kế hoạch và dự toán sửa chữa lớn theo định kỳ ở các cấp độ như tiểu tu, trung tu và đại tu, đưa ra giải pháp giúp khách hàng kéo dài tuổi thọ thiết bị và tối ưu chi phí bảo dưỡng.