Hoffer Flow Control's history can be traced to the beginning of the original turbine flowmeter development that incorporated pulse transducers to generate accurate and reliable outputs for flow measurement. Hoffer has been designing and manufacturing high-quality turbine flowmeters since 1968. Today at Hoffer, the craft of combining flowmeters with flow measurement instrumentation has grown to include a wide range of process systems for a variety of fluids and gases including cryogenic applications. Computer-based designs and calibrations assure reliable, accurate operation. System designs from Hoffer allow near-custom applications at moderate costs for a wide range of process operations such as indicating, blending, and controlling.
Sales and Service
The Hoffer Applications Group is ready to assist you with sizing meters to meet your application needs. From simple off-the-shelf flow systems to complex customized instrumentation, Hoffer's technically-versed sales staff is eager to serve you. Hoffer provides extensive support in personnel training and field sales and service.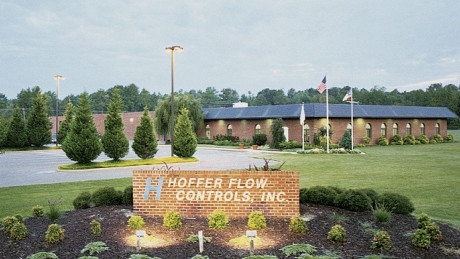 Providing turbine flowmeters of varying configurations is our specialty and our broad line of state-of-the-art electronics enables us to routinely handle a variety of flow applications. Hoffer takes pride in its dedication to service and customer satisfaction. The Hoffer name and reputation is synonymous with quality and reliability. Our prices are competitive and typical delivery is in three to four weeks. We offer fast turn around on repairs and availability of spare parts Domestic and International manufacturer's representatives are also at your disposal for information and pricing.
Engineering and Production
It takes years of experience to solve complex flow applications. Experienced people can be found at Hoffer. The Hoffer Engineering and Production Group is the driving force behind every flowmeter and flow system offered. Their efforts have resulted in a set of standards unique to Hoffer Turbine Flowmeter Systems. From engineering and assembly to calibration and testing, the people at Hoffer continue to make immeasurable contributions to give you the measurable difference. Their hands-on involvement assures superior quality and the highest accuracy.